Toddlers need to stay comfortable for them to sleep through the night. As they continue to grow, they might need pillows to do that. Toddler pillows are specifically designed and tailored for this purpose, for comfortable and peaceful nights for the toddler, which translates to equally peaceful nights for the parent as well.
As a parent, you understand that babies are sensitive so you need to choose the right toddler pillow so that they can sleep comfortably. In most cases, parents find it hard to pick the right toddler pillow.
If you are among these parents, look no further because I have provided you with quality pillows that are the perfect size for your baby.
Also, there is a buying guide with a few things to consider before purchasing a toddler pillow for your little one so, enjoy!
Things To Consider​ : Best Toddler Pillows
Here are a few things to consider that will serve as a buying guide for a toddler pillow.
Allergies
Knowing your little one's allergies will help you in picking the right pillow. For example, knowing that your toddler is to wool, will help you avoid wool, and pick another material that will not aggravate their allergy. Hypoallergenic pillows are usually the safest bet.
Firm Vs. Soft
A pillow that is too soft poses the risk of suffocation. A pillow that is too firm might be too hard to provide comfort.
A pillow is too soft when you press down, and it doesn't regain its original shape, it is too soft. On the other hand, if the pillow is pressed down and it doesn't move, it is too firm, and it might cause shoulder and neck strain to your toddler.
The pillow you choose has to strike that perfect balance between firm and soft, to provide support and comfort at the same time for a good night's sleep
Pillow Fill Material
This is the material under the pillowcase that keeps your toddler comfortable and supported. There is a huge variety to pick from, from feathers to foam to synthetic fill.
The fill should be fairly soft, dust-free, and 'silent.' Some synthetic fills like buckwheat make some noise when the weight of your toddler's head is shifted.
And this might wake them up for you to lull them back to sleep, which is not a much-desired situation in the middle of the night.
Pillow Cover Thread Count And Fabric
Beddings generally, such as sheets and even the pillowcase material are more comfortable, silkier, and more durable when they have a higher thread count.
When picking a pillow for your toddler, the pillowcase should have a high thread count, for it will be less scratchy and comfier as opposed to those with a low thread count.
The fabric is usually cotton, although you should be careful because there is regular and organic cotton. Organic cotton is the better choice, for it does not contain dyes, bleaches, and harmful toxins that are used in the manufacturing process of regular cotton.
You don't need your toddler inhaling these industrial materials while asleep so make sure the pillowcase is clearly marked that it is made of organic cotton.
Recommended Best Transformer Toys
Editor Rating:
This is one of the best toddler pillows in the market, loved and approved by parents, grandparents, and even pediatricians and chiropractors.
The case is made of 100% certified organic cotton, so you don't have to worry about your kid breathing toxins and dyes because it is free of any chemicals.
It is naturally hypoallergenic, and resistant to dust mites so that your sensitive toddler is not at risk of suffering from any allergic reactions.
The hypoallergenic polyester fiber that it is filled with is also soft and fluffy with just the right support for the toddler's head, neck, and shoulders.
It has a high thread count of 200, making it super silky and comfortable for any toddler. The filling makes it washable, without it getting lumpy and uncomfortable, making it durable for use over a long period
Pros
A high thread count of 200
Approved by pediatricians and chiropractors
The case is made of organic cotton
Hypoallergenic
Resistant to dust mites
Soft but provides support for the head, neck, and shoulders
Cons
Flat with not a lot of filling, and this might be a problem to some who might prefer thicker pillows
Little Sleepy Head Toddler Pillow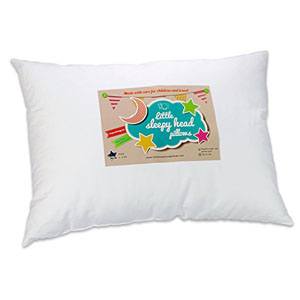 Editor Rating:
It has a soft but firm and polyester fill, which is comfy for your toddler with just the right amount of support for your little one, regardless of their sleeping style.
It is also machine washable, and it remains soft even after a lot of washes making it durable.
The premium polyester cluster fiber is also hypoallergenic, and it is encased in a pure cotton pillowcase with a thread count of 200, which translates to comfort and perfect head, neck, and shoulder support.
The company is kind enough to offer a 90-day money-back guarantee, no questions asked. Meaning you have 90 days to try out the pillow on your toddler and if you do not like it for one reason or the other, it can be returned and you get your money back.
​Pros
Hypoallergenic
90-day money trial period and a money-back guarantee
Pillowcase is pure cotton with a 200-thread count
Premium polyester cluster fiberfill that is comfortable while providing support
Machine washable
​Cons
May require purchasing of a separate pillowcase for some parents think it is too scratchy for toddlers with sensitive skin.
Flatten and get lumpy after a while
Dreamtown Kids Toddler Pillow With Pillowcase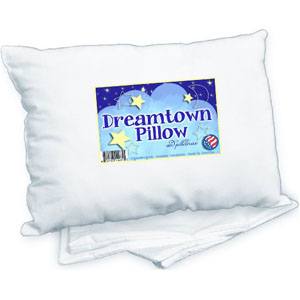 Editor Rating:
It is one of the best because it has been recommended and is highly approved by chiropractors as toddlers' first pillow. It is 100 percent hypoallergenic making it safe for it will not trigger any of your child's allergies.
The filling of the pillow is a blend of polyester and cotton, which allows it to be machine washed and dried, without any problems.
It also comes in just the right size for your toddler for comfort a good night's sleep. It is also resistant to mildew, should it get wet because toddlers can get messy.
But this pillow will dry out without any worries. It is also resistant to mold, which may be brought about by spills or drool, so it stays looking and feeling fresh.
Pros
Approved by chiropractors
100% hypoallergenic
Polyester and cotton filling makes it machine washable
Perfect size
Resistant to mildew and mold
Cons
Goes flat after a few months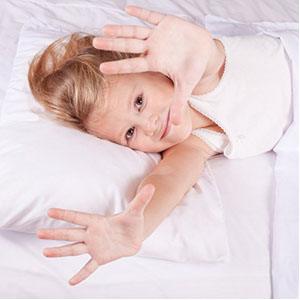 Editor Rating:
It is of the perfect size and thickness to support your toddler's head and neck at the perfect angle while providing the comfort and softness of a cloud.
It is filled with soft microfiber, guaranteed to make him or her sleep comfortably through the night, to wake up feeling rested and refreshed.
They are made with premium quality materials that are 100% hypoallergenic without any risk of allergic reactions. This includes the microfiber filling and the pillowcase made of 100% USA cotton.
They are also machine washable. Much as it is a baby product, it can be used for multiple uses.
It can also be a great travel pillow for adults because it fits easily in your luggage and allows you to sleep comfortably in the car or while on a flight with optimum comfort from this quality pillow.
It also has a one-year comfort guarantee, ensuring your buying it is risk-free. If you are not satisfied, the company guarantees a full refund, no questions asked.
Pros​
Hypoallergenic
Machine washable
Soft and plush microfiber filling
Great travel pillow for adults too increases versatility
Backed by a one-year comfort guarantee
Great quality
Right thickness and offers good support for the toddler's head and neck at the correct angle.
Cons
Some people prefer pillows that are a little flatter for their toddlers, so this one will be a little too thick
Editor Rating:
Made by 'A Little Pillow' company, a company that has been around for so long and it makes the safest, quality pillows available, making it a brand you can trust.
Pediatricians have recommended it as a size that is not too big and not too small. The filling is just the right amount, and it won't have your toddler's neck at uncomfortable angles.
It is a hypoallergenic toddler pillow that comes in more than 15 cute prints. You do not need a pillowcase for this particular pillow as it can be used without, but if you feel like you need one out of personal preferences, they are sold separately in matching prints.
The 100% hypoallergenic filling is covered by a soft 200 thread count percale cover. It is double stitched for durability, and for maximum quality control, each and every one of them is hand-stuffed. It can be machine washed and dried too for easy maintenance.
Pros
Recommended by pediatrician
Hypoallergenic fill and case that is sold separately
Comes in over 15 cute prints to enhance the décor of your toddler's room
Double-stitched
The filling is covered by a 200 count percale cover
Hand-stuffed for quality control
Machine wash and dry
Cons
Get lumpy over time
Does not have enough stuffing in it to keep it fluffy and will flatten quickly
Without a pillowcase, it might get dirty too quickly.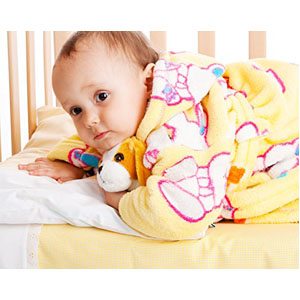 Editor Rating:
This pillow is safely hypoallergenic and is hand made with a 200 thread count certified organic cotton.
It is not treated with any chemicals like pesticides. It is filled with a soft micro cluster fiber that is also untreated for 100% hypoallergenic.
They are designed by a chiropractor and a specialist for kids' heads, and that is how you know that it is perfectly safe for your child.
This pillow has multiple uses, though, as adults can also use it during travel, it can be used by the elderly, can be used to provide support for patients recovering from surgery. There are many satisfied parents, and adult and elderly customers as well.
For easy maintenance, it can be machine washed and will hold up well without flattening. Make sure you follow the washing instructions to keep the pillow in perfect shape.
It is a little wider to give the toddler room to move, and the manufacturer uses less fill to ensure that it is not too thick to bend the neck at uncomfortable angles.
They are not only for nap time, for they can also be used during those long stroller rides to enhance your little one's comfort.
Pros
Designed by an upper cervical specialist for kids and a chiropractor
Wide for enough room to move and they use less filling to ensure it is not thick
The filling and the shell are both 100% hypoallergenic
Has multiple uses
Great for transitioning
Machine washable for easy maintenance
Cons
If your personal preference is a thicker pillow, this one is not for you. However, the company can be contacted for a custom made pillow with more stuffing
Pillowcases are sold separately, so you incur extra costs
Final Verdict
As you have seen, (or probably already knew if you have a toddler and have used a toddler pillow before), there are a lot of things that need to be taken into consideration before purchasing a toddler pillow.
Based on your personal preferences and even those of your toddler if any, pick a toddler pillow that is ideal and will serve the purpose of providing comfortable and peaceful nights for your toddler, without any problems.
By that I mean the pillow should be hypoallergenic, and for easy maintenance, you can pick from options that are machine washable. The safety and comfort of your child are very important.
This review will be your best, most reliable guide as you search the market for your toddler's first pillow or if you're looking to upgrade because in it, are listed nothing but the best.