Getting a baby to calm down or getting them to sleep is no mean feat. Any parent will agree with me here. But in this technological age, there are various things to help parents make that work a little easier.
For example, these baby mobiles that are basically a gift to kids and parents alike.It is almost amazing how this simple baby mobile dangling above your baby's cot or stroller can achieve in terms of calming your little one's mood.
In this list, I looked for quality and features that possess the ability to catch, and hold, your baby's attention.
There are very many baby mobiles in the market. And if you do not know where to start, start here, to make sure you don't panic and pick the first one you come across.
Things To Consider : Best Baby Mobiles
Here are a few things to consider before you go out to purchase a baby mobile.
Extra Features
Some baby mobiles come with extra features that add to the efficiency of the mobile in one way or the other.
Some of these include remote control operability, removable toys that your baby can play with, portability, flashing lights, soothing sleeping sounds and et cetera.
They improve the general functionality of the mobile so review features of various baby mobiles and make an informed decision on the one you want to buy for your baby.
Types Of Toys
Mobiles come in different designs and different types of toys hanging from them, and there is a very simple way to make sure your baby does not get bored easily with the mobile or the toys easily; get a mobile with toys that your kid loves.
You need to study your baby's preferences and know does your baby love cars? Or monkeys? Or fishes maybe?
Once you identify your baby's preference, then you can look for a mobile with similar toys hanging from it to ensure that the mobile will be well received.
Does It Move?
Your baby will be more stimulated and fascinated by mobiles that move as compared to still baby mobiles. There are the wind operated ones that are lightweight and rely on the wind to start spinning around.
These are less popular as nurseries aren't the windiest of environments.There are the more popular mechanically operated mobiles that need a simple push of a button to start moving. They require batteries to operate.
​Recommended Best Baby Mobiles
Tiny Love Take Along Mobile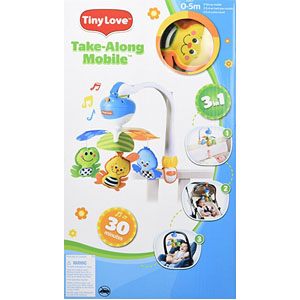 Editor Rating:
From the name of this toy, it is stated that you can take it along with you and your baby anywhere. If you are looking for one that you can carry to when you go off to vacation, grandma's house or wherever, this is the one I recommend.
It is detachable so it will engage, entertain and soothe your baby wherever you take it with you
It plays soft and soothing melodies and that makes it a fantastic baby electronic mobile. It offers 30 minutes of continuous and pleasant music and 5 different tunes.
It is suitable for newly born baby to babies up to 6 months as they stimulate the baby's fine motor skills, cognition and senses.It also comes with adorable toys that will give your baby a sense of familiarity while on the go when you take it along with you anywhere.
It can be used in strollers, travel cots, infant carriers, car seats and bassinets and has three easy connectors for each baby gear product.
Pros
Stimulates the baby's fine motor skills, cognition and senses
3 in 1 and can be taken anywhere with your baby
Gives your baby a sense of familiarity while on the go
30 minutes of pleasant music, 5 different tunes
3 dangling and engaging toys that rotate to the music
3 easy connectors for each baby gear product; car seats etc.
Cons
The motor is noticeably loud when in a quiet place
Not universal and you might find it doesn't fit your cot or car seat or stroller
Could use a volume button as the music is a bit loud
Check Price On AmazonVTech Baby Soothing Ocean Slumbers Mobile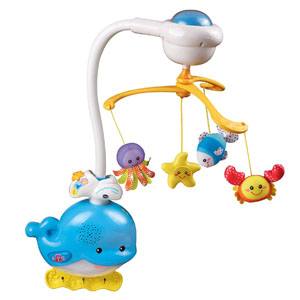 Editor Rating:
This Soothing Ocean Slumbers Mobile by VTech is a little different, and it will be excellent in relaxing, calming and soothing your little baby to sleep.
The music box that is the control unit is designed as a friendly, smiling blue whale with a yellow wave splash on its belly and a white water spout from its blowhole and it, an arm that connects to the rotator unit.
Rotator unit has an inbuilt projector that shines ocean themed images on the ceiling. The kinetic arm from the rotator unit has 4 little aquatic animal characters dangling from it, and these are; a starfish, a fish, a crab and an octopus.
This arm can be removed and repositioned on the yellow wave splash under the whale's belly. The music box plays soothing melodies, children's rhymes, nature sounds.
And lullabies that all add up to more than 45 so your baby doesn't have to hear the same tune over and over. This is a good buy for its versatility as it can be transformed into a crib toy as your baby grows.
​Pros
Projects ocean-themed graphics on the ceiling to capture and keep the baby's attention
Bright aquatic animal characters dangling and spinning in a gentle motion to soothe and calm
Plays more than 45 lullabies, kid's rhymes, etc.
For babies between 0-2 years
2 in 1 toy and transforms into a crib toy as the baby grows
Timer you can set for different, lasting intervals of sound
​Cons
Runs out of batteries rather quickly
Strap and buckle aren't well made, and it can't be secured to the crib well enough
Stops spinning after a while
Check Price On AmazonTiny Love Sweet Island Dreams Mobile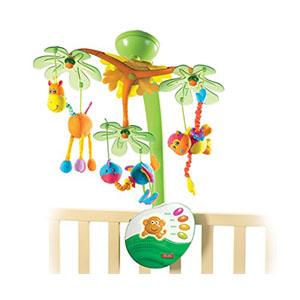 Editor Rating:
This is one of the best baby mobiles in the market. The rotating arm looks like a palm tree hence the island name and if there's one thing we know about islands is that they are relaxing.
This mobile is no different. Hanging from underneath the palm tree-like rotating arm, are a monkey, giraffe and a bird.
It features soothing nature sounds and classical music, guaranteed to put your infant right to sleep. It can play music continuously for 20 minutes and the music box that controls it can be easily attached to the crib.
The monkey also serves as a night lamp and on its side are 4 colorful buttons that correspond to the 4 different melodies.
It encourages visual and auditory development, and the fact that it has buttons for the kid to press and experience an immediate effect will help in the development of motor skills.
And as the icing on the cake, this mobile is remote controlled, so you don't even have to go to the crib to switch it off and on manually like other models.
Pros
Island themed design
Calming light
Up to 20 minutes of continuous music
Adorable island friends
Characters' movement is multi-directional
Remote controlled
Introduces to a young child the idea of cause and effect as he or she presses the buttons and the songs switch
Cons
Motor buzzing is loud
Cannot be easily attached to the playard as it doesn't clip onto the side
Check Price On AmazonTiny Love Soothe and Groove Mobile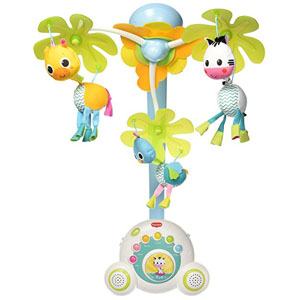 Editor Rating:
This mobile is your baby's personal MP3 player that is guaranteed to make you baby fall asleep in no time.
It features 6 different sound categories, and you can pick from modern world music, womb-mimicking white noise, soothing lullabies, classical tunes and even soulful jazz music.
Each of these categories having 18 selections each, the total is brought to a whole 108 for unmatched musical versatility.
It can be made to play music continuously for up to 40 minutes before it turns off, and this is long enough to put your baby right to sleep.
For visual sensations, it has 3 dangling animal characters, a horse, monkey and an elephant all donning happy faces to keep the baby entertained.
They are also plush and soft to your baby's touch. These are detachable from the music box too so if your child has had enough of them, you can just detach the arm, and it will remain a stand-alone music box.
Pros​
 Vast selection of melodies
Can be used as a stand alone music box
Stimulates tactile, visual and auditory senses
Up to 40 minutes of non-repetitive, continuous music
Two high-quality speakers and a unique design
Has a calming night light
Turns off after 40 minutes, so the batteries don't run out
Shuffle option
Cons
Cannot be stopped from playing unless it is turned completely off. This way, the baby cannot turn it on him/herself.
Rotation is a bit noisy
Check Price On AmazonFisher-Price Rainforest Peek-A-Boo Leaves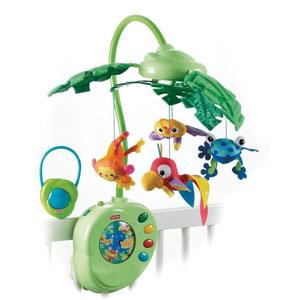 Editor Rating:
This mobile is the perfect addition to a wildlife themed nursery. It has a lot to capture your baby's attention including a nightlight, bobbing leaves, and detachable characters.
It can play traditional melodies as well as jungle sounds, which have proved to be surprisingly calming to some babies.
The unique thing about this mobile is that it comes in 3 modes. There is a 10-minute duration with motion, lights and music for naptime, 12-minute music and motion mode for transitioning into sleep and 18-minute music and lights mode for when the baby is feeling playful.
The sounds are of a typical rainforest, so there's buzzing of insects, birds chirping and et cetera, but also, of course, you still have classical music.
There are dangling plush characters, a monkey, dragonfly a frog and a parrot, suspended under shiny leaves.
The leaves move in a wavelike motion when the mobile is on, and music is playing, and rotation is going on. It is also remote controlled.
Pros
Remote controlled
Plays up to 18 minutes of continuous music
Warm light for a soothing environment
Converts to a music box with a night light as the baby grows
Classical sounds from Bach, Beethoven and Mozart and rainforest sounds too
Dragonfly plays peek-a-boo with your baby for more fun
Cons
Weak motor
Pieces interfere with each other as it spins.
Check Price On AmazonManhattan Toy Wimmer-Ferguson Infant Stim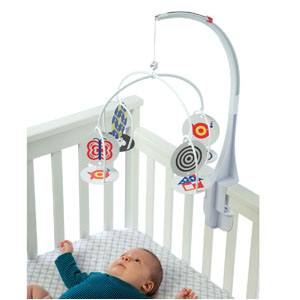 Editor Rating:
This mobile is unique, as it has high contrast black and white images and patterns. The canopy is designed like a black, and white bull's eye and the dangling pieces are in different patterns.
It is more of a developmental toy to stimulate your child's senses as the high contrast images and patterns help to establish the visual sensory processing of your child.
It also lights up and produces sounds and melodies to soothe your child to sleep.It is made of flat cards, making packing and storing easy for you to take it with you anywhere you and your baby go.
The plastic clamp is super-sturdy, and it can be used to attach it to any infant device of furniture such as infant carriers, car seats, and strollers.
Pros
Attaches to most infant furniture and devices with its steady clamp
From a company well known for making innovative black and white infant developmental toys
Introduces the baby to high contrast, color and black and white graphics for early visual and multi-sensory development
Lightweight and easy to pack travel toy
3 reversible cards with black and white graphics on one side and color images on the other
Cons
Thin plastic materials
Discs fall off easily and might get lost
Final Verdict
With the wide array of different baby mobiles in the market, it is okay to be spoilt for choice. Although, you have to go into the market knowing what you want so you can take home a mobile that will make your baby and even you, happy.
In my review are some of the best available, and have been proved effective by thousands of parents. So get one today, for a tool that will calm and soothe even a screaming baby, and even preserve your sanity in turn.