Baby jumpers are fun, as they keep your baby delighted and active, and get them to use their still developing leg muscles, and even strengthening them.
The credibility of that fact is still debatable but what we know for sure is that babies love them and a happy baby is a happy parent.
Also, by keeping the baby active, it helps them get rid of excess energy, as well as helping them sleep better after a few minutes of delighting fun on it.
There are many various models in the market, each bringing different features to the table. Some come with toys, some come with music, some are hung on the doorway, some can be used anywhere, the options are endless!
So how do you choose the right one? In this review are some of the notable models in the market, and a buying guide for a potential buyer. Read on to learn more.
Things To Consider : Best Jumper For A Baby
There are a few different things you have to put into consideration when shopping for the perfect baby jumper.
You can use this as a buying guide, to ensure that you take home the jumper that will serve you and your baby best, all things considered.
Weight Limit
Many baby jumpers have a recommended weight limit that may vary from one brand to brand. You have to make sure that you choose a baby jumper that is suitable for your child's weight.
If you disregard the weight limit, it may result in the baby jumper breaking and cause injuries to your baby, which is a very undesirable situation for any parent.
Adjustability
Some baby jumpers can be adjusted as the baby grows. Adjustable baby jumpers will ensure comfort as he or she grows and ensures that the baby does not outgrow the jumper too soon and that you get the most value out of the product.
Storage
Since baby jumpers are not items that are continuously used all day every day, you will need somewhere to store it when it is not in use.
If you have little space in your house, go for options that can be disassembled into smaller or maybe flatter pieces for easy storage and so they don't take up much space.
Toys
There are very many types, and each one of them comes with a different selection of toys for the baby to play with to keep them entertained.
To make sure that the jumper is well received because it has the right toys, you have to study your child's playing habits and know what toys he or she prefers to play with.
Some children like toys that are plush soft to touch, some like toys that rattle, while some kids are fascinated by music.
Choose a jumper that has toys that your child enjoys playing with, to ensure that he or she does not lose interest too soon.
Seat
Seats will obviously vary from one jumper to the next, but there are seats with a couple of notable and desired properties, for example, seats that spin 360 degrees, those that allow for height adjustment.
And some are lined with plush padding for the baby's comfort.Put the seat of the jumper into consideration and choose one with features that are ideal.
General Jumper Safety
As I mentioned earlier (and you probably already know), your baby getting injured is a tragic and undesirable situation. This is one of the most important things to consider.
Make sure the base is sturdy, and it can support the whole system with the baby in it, with no problems. Jumpers with seats that are suspended by a single elastic strap are not recommended for safety purposes.
Most safety concerns come down to responsibility and common sense. For example, you should not leave the room while the baby is jumping, it should not be used near the pool or stairs or equally dangerous areas.
The surface the baby is jumping on should be flat, level and cleared of any sharp or pointy objects and so on. Make sure you are not endangering your child's life with this item
​Recommended Best Jumper For A Baby
Fisher-Price Luv U Zoo Jumperoo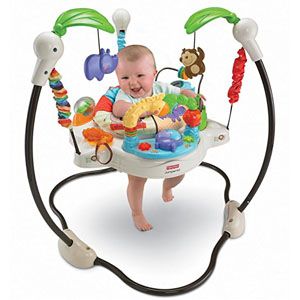 Editor Rating:
This jumperoo from Fisher-Price is the dream for today's generation of toddlers. The frame is made of heavy duty steel, for durability.
It is also easy to assemble, and it is very portable so it can be moved from room to room easily. It has two leaves that form an arched canopy, and several colorful zoo animal characters hanging from it.
It also has an activity center with many toys including a giraffe with clacker beads, a hippo rollerball, elephant mirror, lion teether and more, to keep the baby busy and entertained.
The base is almost triangular and has non-slip pads, so it stays in place for the safety of your jumping baby.
As a further safety precaution, the jumperoo has plush spring covers to keep their little fingers safe from any harm.
The baby's little jumps are rewarded by sounds, lights or music, and it features a seat that spins 360 degrees for the baby to see all around.
Pros
Easy to assemble
Seat spins 360 degrees so the baby can see and play with toys all around
Jumping is rewarded with music, lights, and sounds
Sturdy, free-standing steel frame that is durable with a triangular base
Adjusts easily to 3 different heights as the baby grows
Soft and plush spring covers to keep fingers safe
Cons
While it is still new, the seat does not turn without a little help
The base is wobbly
Check Price On AmazonEvenflo Exersaucer Bounce & Learn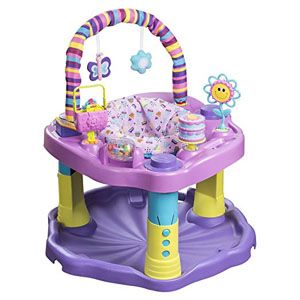 Editor Rating:
It is one of the most popular jumpers by Evenflo, and it provides a safe and secure learning environment to help your baby achieve important developmental milestones.
It includes actions like rocking, bouncing and spinning, to give your baby plenty of exercise for strengthening the back, leg and neck muscles.
It has a sturdy and solid base to provide an excellent support system for this play platform and also making sure your baby will not injure his or herself while playing in this.
The tray has interesting toys that the baby can play with and keep him/herself entertained.
The height of the entire platform can be adjusted up to 3 positions, so it can be adjusted as your child grows so they will not outgrow it too soon and it is rendered useless.
This helps you get the most value out of the product. Aside from being just a jumper, this one comes with so many more other advantages, for example helping the baby acquire gross motor skills, learning cause/effect, tactile development, etc.
​Pros
Solid and sturdy base
Secure environment to learn and play
Physical exercises to help in the development of the baby's neck, back and leg muscles to improve gross motor skills
Grows with the child for maximum product value
3 position height adjustment
Helps in the development if the baby is improving gross motor skills, hand-eye coordination, tactile development, object permanence, self-awareness and et cetera.
​Cons
It has an arched bar with toy monkeys on it that is not high enough. The baby might hit itself on it while jumping. However, it is detachable.
Check Price On AmazonBaby Einstein Rhythm of The Reef Activity Saucer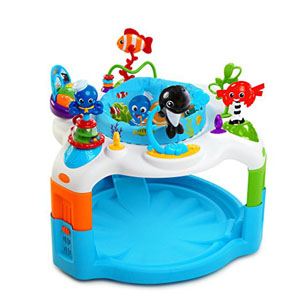 Editor Rating:
For babies who have taken a liking to marine animals, the Baby Einstein Rhythm of The Reef Activity Saucer perfect.
It has different, colorful marine animal toys, like a clownfish, an octopus a crab and a whale, that surround the play platform, complete with reef plants. A sturdy circular base supports this amazing marine play platform.
It has a 360-degree rotating seat, for the little one to explore toys all around. The seat also has a comfy, padded backrest, and it can be adjusted to up to 5 different height positions to grow with your child.
You also get the most value out of it.It also has a learning activity center, that plays enjoyable and educative sounds like melodies, ocean sounds, piano notes and for language learning in English, Spanish and French, complete with volume control.
And the piano lights up too! It is also easy to store because it can lay flat and take up less space.
Pros
Small design and easy to assemble
Padded high back seat for additional support and comfort of the baby
360-degrees rotating seat for exploration of tools all around
Adjusts to 5 height positions to grow with the baby
Easy to store
More than 12 fun and developmental activities for your child e.g. the light u piano that plays melodies and can help in language learning
Cons
Has stickers that may pose as choking hazards
Fixed toys might frustrate a baby who will want to pick them up
Check Price On AmazonFisher-Price Woodland SpaceSaver Jumperoo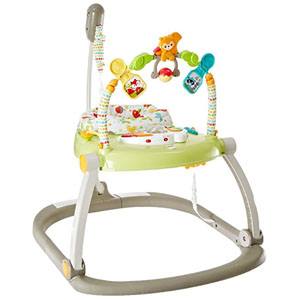 Editor Rating:
This jumperoo is the perfect solution for homes with limited space, as it is designed to be used in small spaces. Aside from the fact that this jumper is a space saver, it brings a variety of the best features, true to the Fisher-Price brand name.
It has plenty of fun, developmental and learning activities for infants including a light-up piano with rainbow keys, a wiggly frog teether, soft toys and more.
. These keep the baby entertained and busy as he/she bounces up and down. Lights, sounds and musical rewards help in the baby's sensorimotor development. The seat also spins at 360 degrees for 360 degrees of fun as your child explores and plays with toys all around.
It also has a 4 position height adjustment to grow with the child. The jumperoo is easy to assemble and can be folded flat for easy carriage and storage, and for it to take up even less space making it ideal for smaller homes. This property also makes it very portable.
Pros​
Multicolor woodland theme
Seat spins at 360 degrees
Can be folded flat for portability and easy storage
4 position height adjustment
 Easy assembly
Helps in sensorimotor development
Cons
The archway is a bit far, and it's difficult for kids to grab the toys when they reach for them or to bat at them.
Opening it and folding it down is rather difficult.
Check Price On AmazonJolly Jumper on a Stand for Rockers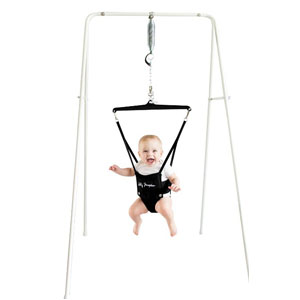 Editor Rating:
This jumper is uniquely shaped, shaped like a swing at the playground, except that this one brings all the fun at home. And also, of course, instead of a swing we have a seat to suspend the baby easily and comfortably.
The sturdy steel frame is durable and provides the whole system with the stability it needs.
This jumperoo provides adequate support for the baby's spine which is crucial to the baby's development, as it helps maintain the correct alignment of the body and prevents slouching.
It is easy to transport and convenient because while the construction is made of sturdy steel, it is lightweight nonetheless.
Pros
Improves balance and helps develop coordination
Firm support for the child's spine
Convenient and easy to transport
Strengthens muscles and develops coordination
Does not need to be suspended on a doorway and can be placed anywhere in the house
Cons
Takes up a lot of floor space
A bit wobbly
Set up is time-consuming
Final Verdict
Most parents who have used baby jumpers love them, and so do their babies. They help keep your baby entertained, active, some have a few attributes that aid in the development of your young child in one way or another.
In my review are some of the most recognized and well-loved baby jumpers in the world.
They are rated as being reliable, safe and your best choice to stimulate your child's auditory and visual senses, improving balance and early motor skills.
You can't go wrong with any of them, as long as it fits your needs. However, you have to make sure that before you go to the market to purchase one, you do your research and read lots of reviews available online and get testimonials from other parents.